SasiaNet | TaskPro Detailed Features
Features in Detail
Real Time Collaboration
With TaskPro you can collaboratively converse with other task owners and watchers in the comments section. While you are assigning the task to the next person, you can give him/her instructions on what to be done. Other watchers also can comment.
Also TaskPro is integrated with Slack. You may use Slack to share progress of the task, inform special things that need to be notified and let others know what difficulties you came across when performing the task.
Once the task is complete, don't forget to say appreciate the team members who collectively did the job perfectly through the collaboration tools.
Time Tracking
For many Task Management platforms, time tracking is a luxury feature that is only available for premium users. But we provide Time Tracking for the free trial as well as for the Lite package.
Track time taken by your team members for tasks and compare them against estimated times. Get to know before tasks get overdue if tasks are not attended to properly. Learn if your team members habitually take longer times to complete tasks than estimated. You also can reward people who are more efficient than the average.
<< Back                                                                                                                                                                                                Go to top
File Management
Your MS Word & PDF documents, Excel sheets and image files that are related to tasks can be easily uploaded on TaskPro so that you can help everyone download and view them. File management is made easy with SasiaNet | TaskPro.
<< Back                                                                                                                                                                                                Go to top
Dashboards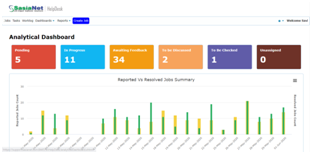 TaskPro comes with comprehensive dashboards that help you understand how your entire business runs within just a few clicks. You do not need to go to each task and see where problems exist, but everything is summarized on a few dashboards for your ready reference.
By moving your mouse over the main dashboards, you can drilldown to list level and even further to task level.
TaskPro brings you a set of comprehensive dashboards that make you be on the top of your business. They have a smooth view on the mobile too. When you are in a meeting or a conference call with your team members, information is available at your fingertips so that you talk absolute facts.

TaskPro Free Trial, TaskPro Lite and TaskPro Standard give you all the dashboards that are available on the platform, which is sufficient to make your effective business decisions. TaskPro Advanced and TaskPro enterprise give you the flexibility to obtain dashboards on your preference so that you can revolutionize your business.
What are you waiting for? Subscribe to the Free Trial to learn what's on offer in the dashboards. Information is today's best weapon. You will efficiently use this weapon to grow your business with TaskPro.
<< Back                                                                                                                                  Go to top
Recurring Tasks
Do you want to list your weekly / monthly meetings as tasks for a designated team? Is your IT team performing day-end system routines as a daily task? Listing them as tasks and monitoring if they are completed properly has been made easy with TaskPro.
You don't have to monitor if they are properly done every day. If they are not done, you will receive notifications from SasiaNet | SmartAlertz which can trigger corrective / preventive actions.
Meeting time is also productive work time. Let your team focus on the meeting by giving it a time, instead of them doing their own work while pretending to be listening.
<< Back                                                                                                                                  Go to top
Assigning Tasks to External Parties
Tasks can be performed by outsiders too. You can invite your customers or suppliers or even other companies, depending on the nature of your business. The advantage you gain is you can demarcate what outsiders should see and what they shouldn't.
Having the entire eco system on one platform will minimize miscommunications and misunderstandings while improving transparency. Move on with Clarity in your working environment with SasiaNet | TaskPro.
<< Back                                                                                                                                                                                                Go to top
Adding Watchers
Certain tasks are important not for everyone. You can have the task team separately, who are expected to work on a particular task, and then watchers who need to be updated on the progress of the task.
<< Back                                                                                                                                                                                                Go to top
Real-time Exceptions with SasiaNet | SmartAlertz
Supplemented and boosted by SasiaNet | SmartAlertz, SasiaNet | TaskPro is engineered to provide pre reminders to staff members on upcoming deadlines and to alert supervisors when expected deadlines are exceeded. If predefined corrective action is not taken within predefined resolution times, such exceptions are escalated to senior management.
In addition, real time SmartAlertz, on breaches of controls, makes this a unique solution focused on achieving results. All this on a mobile enabled platform, ensures that work gets done irrespective of the physical location of any user.
<< Back                                                                                                                                                                                                Go to top
Teams / Individuals as Profit Centers
Another special feature that is available in SasiaNet | TaskPro is the possibility it provides you to define individuals or teams / departments as profit centers or cost centers. Users can be assigned with their hourly rate and you can measure their costs. Instead of the cost of the user, you can enter their price per hour so that you can bill your customers for the actual time taken for a particular task.
With this feature, you can understand how profitable / costly a particular team or a department or even an individual is.
<< Back                                                                                                                                                                                                Go to top
On Premise Deployment (Optional)
Although our ready-to-use solution is cloud-hosted for your convenience, we also have the private hosting feature to give you the infinite controllability you could ever think of. With enterprise package of SasiaNet | TaskPro, we can host it on your premises or on your private cloud with your own customizations and scalability.
We can build you your dream Task Management Platform which will take you to the ultimate level of suitability for your unique business environment. This will come with your own exceptions with SasiaNet | SmartAlertz.
We would charge you for our development and support efforts, hence just drop us a line or call us. Based on your requirements we can generate a quotation acceptance of which we can build your own Task Management Platform.
Even you can host the existing TaskPro platform on your premises / your private cloud too.
Support is not a challenge as long as you could provide us remote access. On site work too is possible, although it could be costlier than remote access.
<< Back                                                                                                                                                                                                 Go to top