SasiaNet | SmartAlertz
ENABLING ENDLESS POSSIBILITIES !!!
Click Here to visit SasiaNet | SmartAlertz website.
SasiaNet | SmartAlertz is a state-of-the-art Business Exceptions Management Platform that generates and monitors SmartAlertz relating to categories of Control Exceptions, Approvals, Reminders and Follow ups.
With SasiaNet | SmartAlertz, you can pre-define your required SmartAlertz for operational and functional areas, assign threshold limits and get real time SmartAlertz when those threshold limits are approached, likely to be exceeded or actually exceeded. The key advantage is that a single consolidated platform could be used to maintain control of the entirety of the Organization's activities, even when using multiple software solutions.
The role of SasiaNet | SmartAlertz does not end after merely alerting relevant persons of the underlying activity. In fact a whole new SMART process begins from there onwards. It keeps track of the status of the underlying activity and is capable of escalating the alert to any number of levels in an organization's hierarchy. SasiaNet | SmartAlertz could be configured to trigger follow up tasks and actions as well as direct predefined SmartAlertz through a user defined approval process.
SasiaNet | SmartAlertz provides compliance dashboards and reports on the entire range of controls setup in the system, as well as track compliance and exceptions of users, teams, operations and functional areas and provide an overall score for the organization.
We are here to assist you to explain how this works for your organization. Write to us on contact.smartalertz@sasianet.com or call / message (Viber / WhatsApp) on +94 706 660 990.
What integrations are possible ?
SasiaNet | SmartAlertz could be integrated with virtually any platform or software solution used by any organization in any industry.
Benefits of SasiaNet | SmartAlertz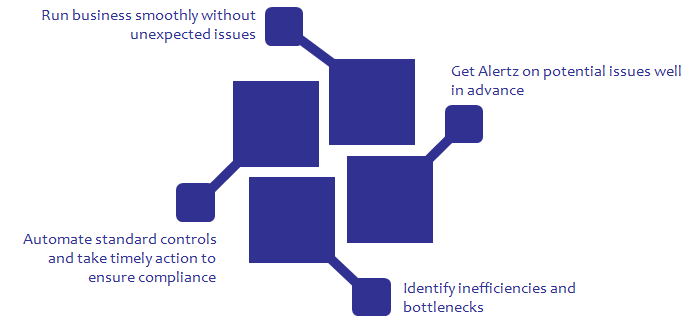 For Whom?
SasiaNet | SmartAlertz are for the following types of businesses:

ENABLING ENDLESS POSSIBILITIES !!!
SasiaNet | SmartAlertz