SasiaNet wins Bronze at the NBQSA 2020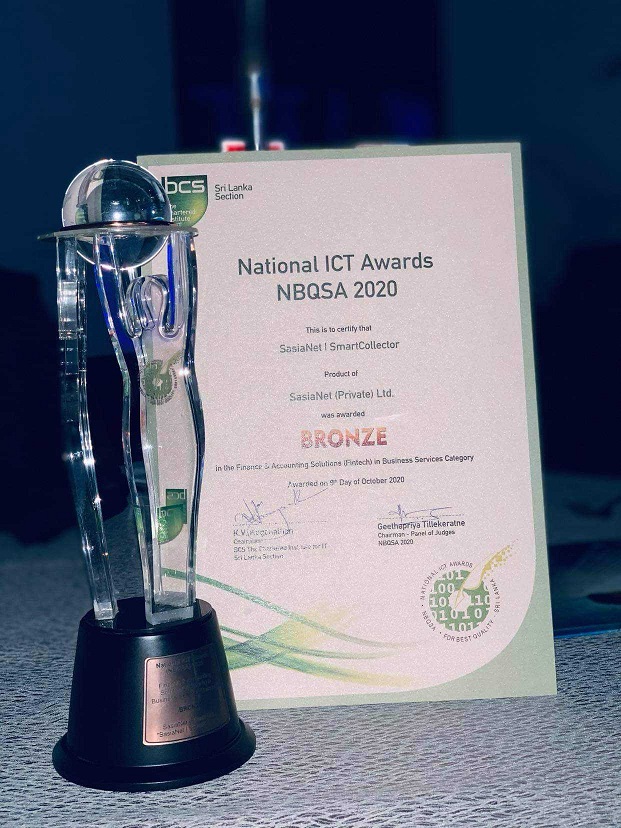 100% Sri Lankan owned Fintech, SasiaNet was awarded Bronze at the National Best Quality Software Awards 2020 (NBQSA 2020) for SasiaNet | SmartCollector, the Collections Management Mobile App and Portal.
SasiaNet had been consistently winning at NBQSA as it secured an award every time it participated in the competition. The Company believes it is due to the discipline SasiaNet maintained at all times in innovativeness and comprehensiveness when designing and developing its products.
Instant collection alerts, collector location tracking, follow up management, debtor profile analysis, transaction analysis, web portal with mobile device management features and dashboards are a few key features of SasiaNet | SmartCollector.
SasiaNet's Portfolio Management System, Asset Financing System, Factoring System and Helpdesk were awarded at the NBQSA in 2006, 2010, 2018 and 2019 respectively.
The Awards Night was held on 3rd February 2021 at the BMICH. NBQSA is considered Sri Lanka's most reputed event to recognize Sri Lankan software applications and ICT companies, which is closely connected with international bodies such as Asia Pacific ICT Alliances. The competition is conducted by the Sri Lankan section of the BCS the Chartered Institute for IT over the past 22 years.