SasiaNet Powers First Capital Online Portal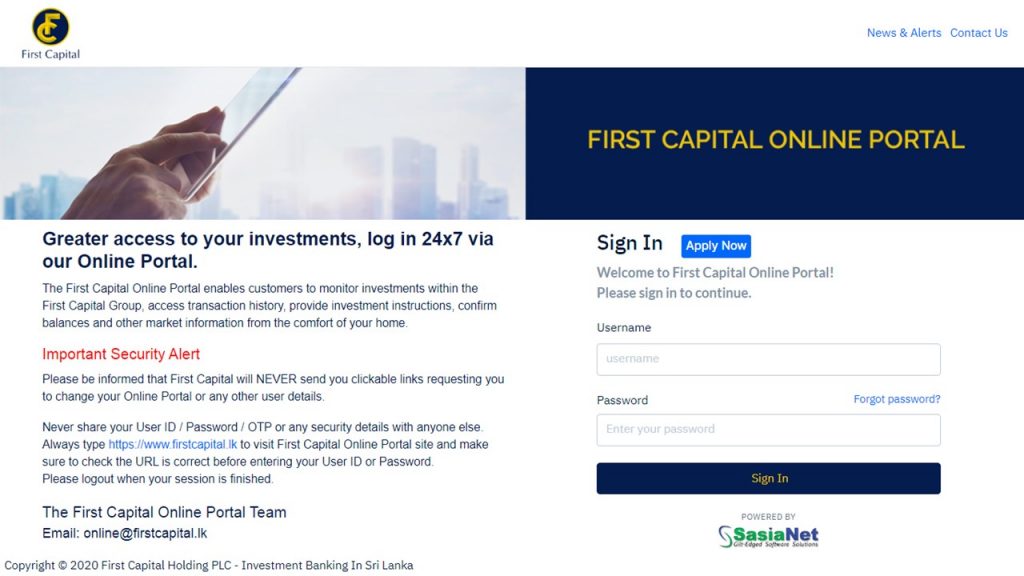 Enhancing the client service offering, First Capital Holdings PLC launched its Online Portal recently. Now clients of First Capital can provide investment instructions with just a click.
The portal gives clients the flexibility and convenience of accessing account information and provides investment related instructions. Services that are currently available on the online portal are:
Transaction history
Market information
Balance confirmation
Investment instructions
Visit First Capital Online Portal from this link: https://online.firstcapital.lk/
Along with First Capital's launch of its Online Portal, SasiaNet launches its Online Portal Solution, which can be enhanced to a Corporate Internet Banking Solution.
SasiaNet's relationship with First Capital dates back to 1999. Starting off with a Portfolio Management System, most of First Capital Group's core operations are now running on SasiaNet Solutions, viz., SasiaNet Portfolio Management, SasiaNet Treasury Management, SasiaNet Primary Dealing, SasiaNet Margin Trading and SasiaNet Unit Trust. This set of products is currently bundled as SasiaNet Investments Suite (formerly known as "DealNet").